SDH8312
NON-ISOLATED AC TO DC CONTROLLER
SDH8312 is AC-DC controller with built-in 650V MOSFET used for SMPS.
SDH8312 integrates high-voltage circuit and self-power function for fast startup and low standby power dissipation. It features the frequency reduction function to optimize the conversion efficiency at light load; the soft startup function reduces the device stress to avoid transformer saturation.
SDH8312 integrates complete protections, including VDD undervoltage protection, open loop protection, output overload protection, output short-circuit protection, over temperature protection, etc.
SDH8312 supports applications of 3.3V~18V ouput.
Main feature
Adjustable output voltage

High-voltage self-startup

Adaptive Frequency reduction

Soft startup

VDD undervoltage protection

FB open-loop protection

Lead edge blanking

Output overload protection

Short-circuit protection

Over temperature protection
Ordering Information
| Product Name | Package form | Marking | Hazardous Substance Control | Packing Type | Remarks |
| --- | --- | --- | --- | --- | --- |
| SDH8312TR | SOP-8-225-1.27 | SDH8312 | Halogen free | Tape & Reel | |
| SDH8312 | SOP-8-225-1.27 | SDH8312 | Halogen free | Tube | |
Block Diagram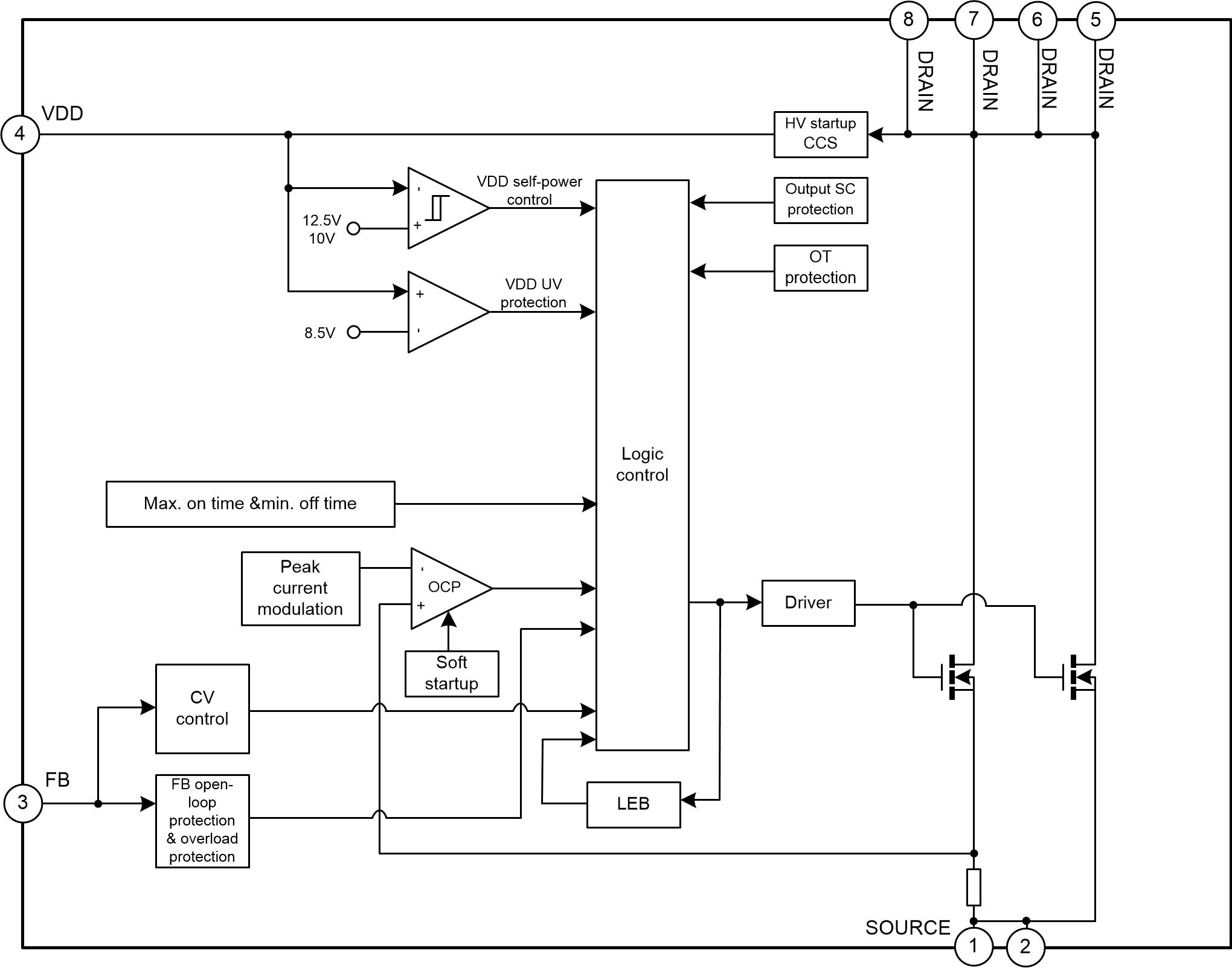 Documents
| title | Types of | Size (KB) | date | Download the latest English version |
| --- | --- | --- | --- | --- |
| SDH8312 Datasheet | PDF | 238 | 2020-06-22 | SDH8312 Datasheet |