SDH8595AS
HIGH PRECISION CC/CV PRIMARY SIDE POWER CONTROLLER WITH BUILT-IN MOSFET
SDH8595AS is offline PSR power controller which operates in PFM to achieve high performance and high efficiency. It integrates a 600V MOSFET and has high-voltage startup function . Both the output current and voltage are sensed by primary side.
SDH8595AS removes the need for optocoupler & TL431 while achieving excellent line and load regulation. It also eliminates the need for loop compensation while maintaining stability over all operation conditions.
SDH8595AS supports applications up to 15W.
Main feature
Primary-side Feedback Eliminates Opto-isolators and Simplifies Design

High Precision Constant Voltage and Current Regulation at Universal AC Input

Programmable CV and CC Regulation

Programmable Cable Drop Compensation

Integrated 600V MOSFET

Integrated High-Voltage Startup

Low Standby Power

Built-in Line Voltage and Primary Winding Inductance Compensation

Built-in Leading Edge Blanking(LEB)

PFM Operation for Efficiency Improving

Comprehensive Protection Coverage with Auto-recovery

On-chip OTP

VCC Over Voltage Protection

VCC Under Voltage Lockout with Hysteresis(UVLO)

Cycle-by-Cycle Current Limiting

Output Short Circuit Protection

Maximum on time protection
Ordering Information
| Product Name | Package form | Marking | Hazardous Substance Control | Packing Type | Remarks |
| --- | --- | --- | --- | --- | --- |
| SDH8595ASTR | SOP-7-225-1.27 | SDH8595AS | Halogen free | Tape & Reel | |
| SDH8595AS | SOP-7-225-1.27 | SDH8595AS | Halogen free | Tube | |
Block Diagram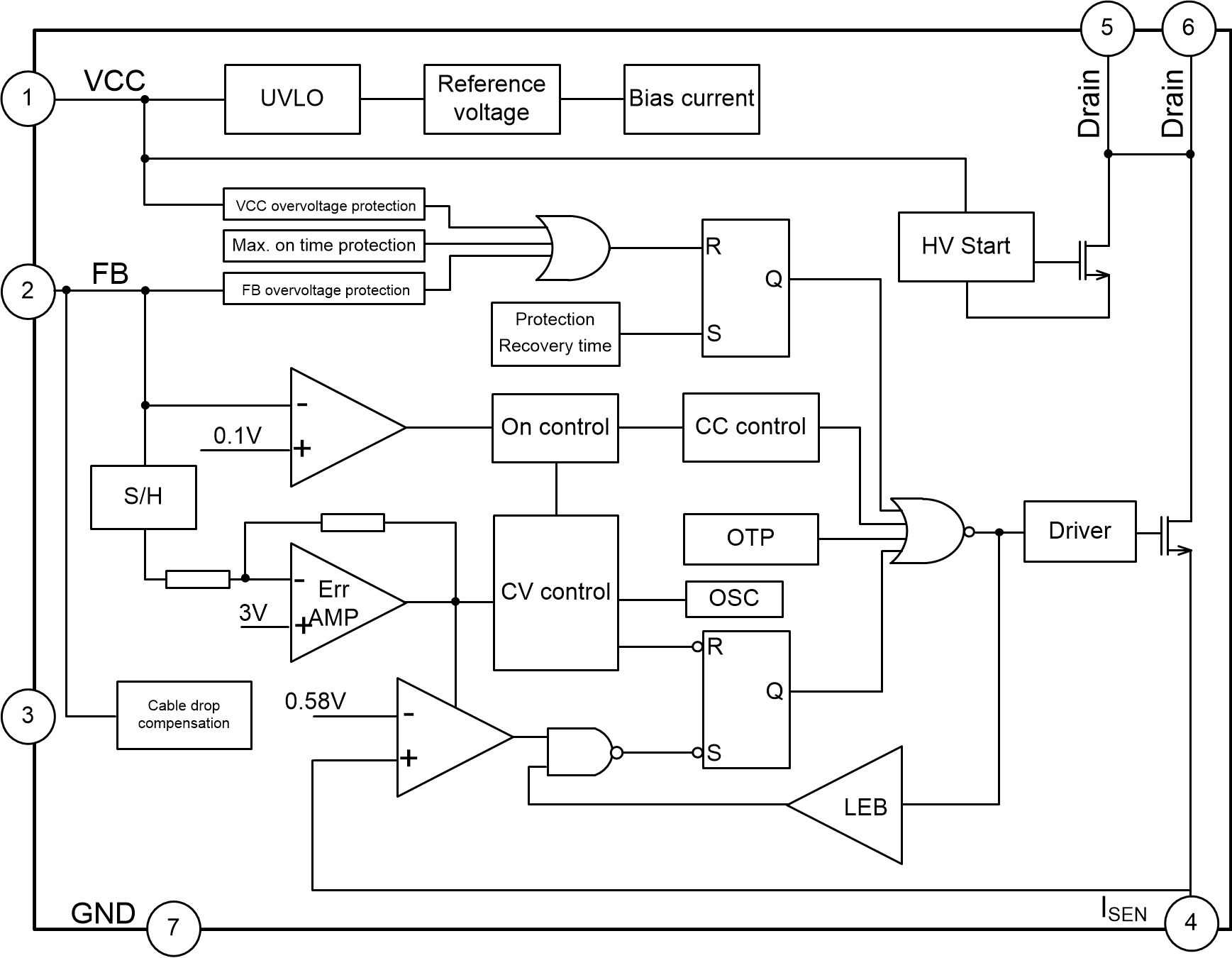 Documents
| title | Types of | Size (KB) | date | Download the latest English version |
| --- | --- | --- | --- | --- |
| SDH8595AS Datasheet | PDF | 322 | 2020-06-22 | SDH8595AS Datasheet |