SD4938
150V CURRENT MODE PWM CONTROLLER
SD4938 is a current mode PWM controller with 150V MOSFET used for SMPS.
SD4938 integrates high-voltage start-up circuit. It enters burst mode at light load to reduce the system standby power dissipation; the frequency reduction function optimizes the conversion efficiency at light load; the soft startup function reduces the stress of device to avoid transformer saturation.
SD4938 features various protections, including VDD undervoltage protection, VDD overvoltage protection, lead edge blanking, over current protection, over temperature protection, etc. Meanwhile, if any protection occurs, the circuit will continue to restart automatically until the system recovers.
Main feature
Input voltage: 20V~150V

Adjustable output voltage including: 12V, 15V and 18V

Output current: 0.5A

High-voltage self-startup

Burst mode at light load

Frequency reduction

Soft startup

VDD undervoltage protection

VDD overvoltage protection

Leading edge blanking

Output overload protection

Over current protection

Over temperature protection
Ordering Information
| Product Name | Package form | Marking | Hazardous Substance Control | Packing Type | Remarks |
| --- | --- | --- | --- | --- | --- |
| SD4938 | SOP-8-225-1.27 | SD4938 | Halogen free | Tube | |
| SD4938TR | SOP-8-225-1.27 | SD4938 | Halogen free | Tape & Reel | |
Block Diagram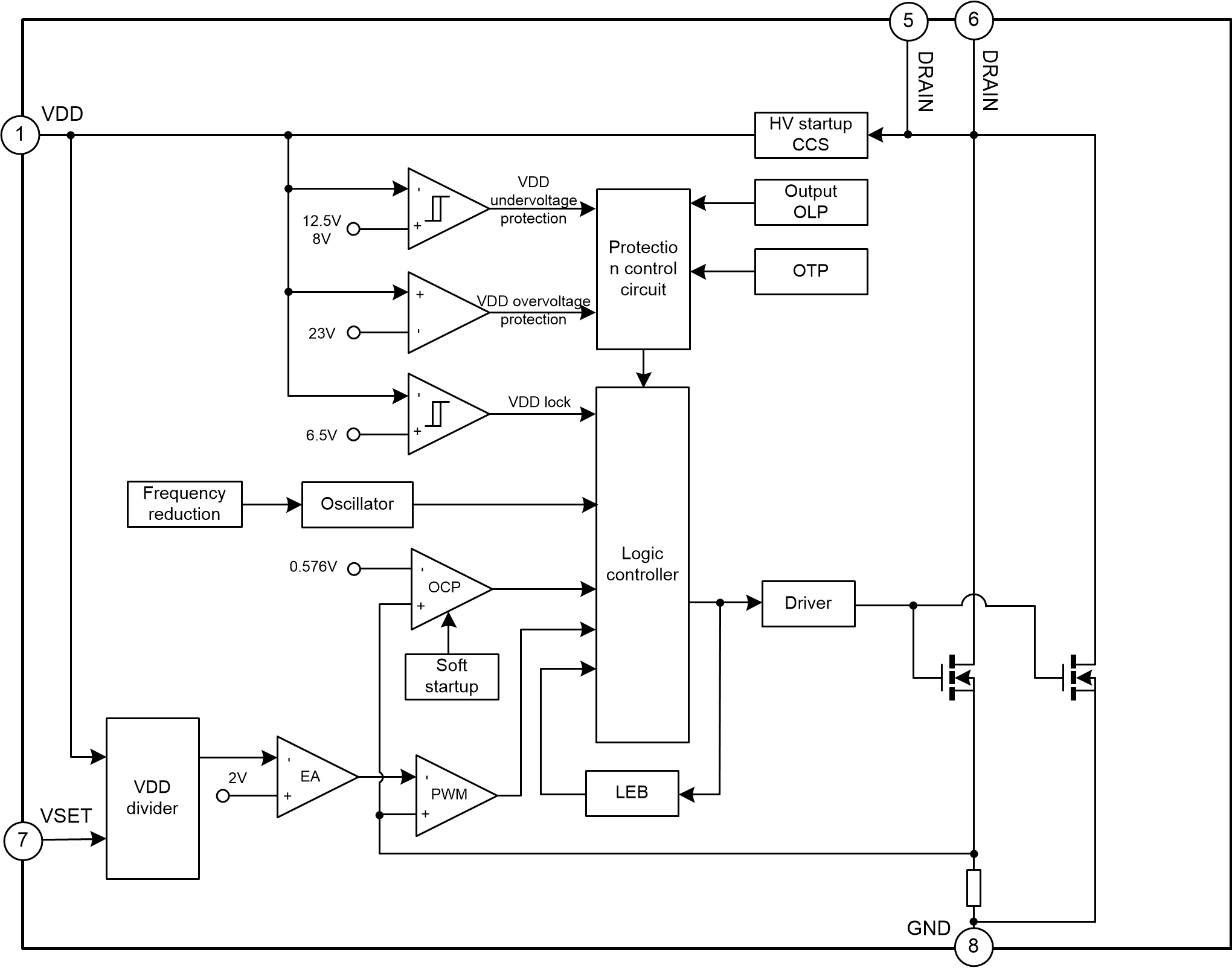 Documents
| title | Types of | Size (KB) | date | Download the latest English version |
| --- | --- | --- | --- | --- |
| SD4938 Datasheet | PDF | 249 | 2020-06-22 | SD4938 Datasheet |