SLP74LVC74A
DUAL POSITIVE-EDGE TRIGGER D-TYPE FLIP-FLOP WITH SET AND RESET
The SLP74LVC74A is a low-power dual positive-edge-triggered D-type flip-flop With set and reset.
A low level at the set SD or reset RD inputs sets or resets the outputs, regardless of the levels of the other inputs. When SD and RD are inactive (high), data at the data (D) input meeting the setup time requirements is transferred to the outputs on the positive-going edge of the clock pulse. Information on the data input is transferred to the Q output on the LOW-to-HIGH transition of the clock pulse. The D input must be stable one set-up time prior to the LOW-to-HIGH clock transition for predictable operation.
Schmitt trigger action at all inputs makes the circuit highly tolerant of slower input rise and fall times.
Main feature
Wide supply voltage range from 1.2V to 3.6V
Inputs Accept Voltages to 5.5V
ESD protection:
HBM Exceeds 2000V

CDM Exceeds 1000V
Latch-up performance exceeds 250mA
Specified from -40°C to +85°C and from -40°C to +125°C
Ordering Information
| Product Name | Package form | Marking | Hazardous Substance Control | Packing Type | Remarks |
| --- | --- | --- | --- | --- | --- |
| SLP74LVC74AJY | TSSOP-14-225-0.65 | LVC74A | Halogen free | Tube | |
| SLP74LVC74AJYTR | TSSOP-14-225-0.65 | LVC74A | Halogen free | Tape & Reel | |
Block Diagram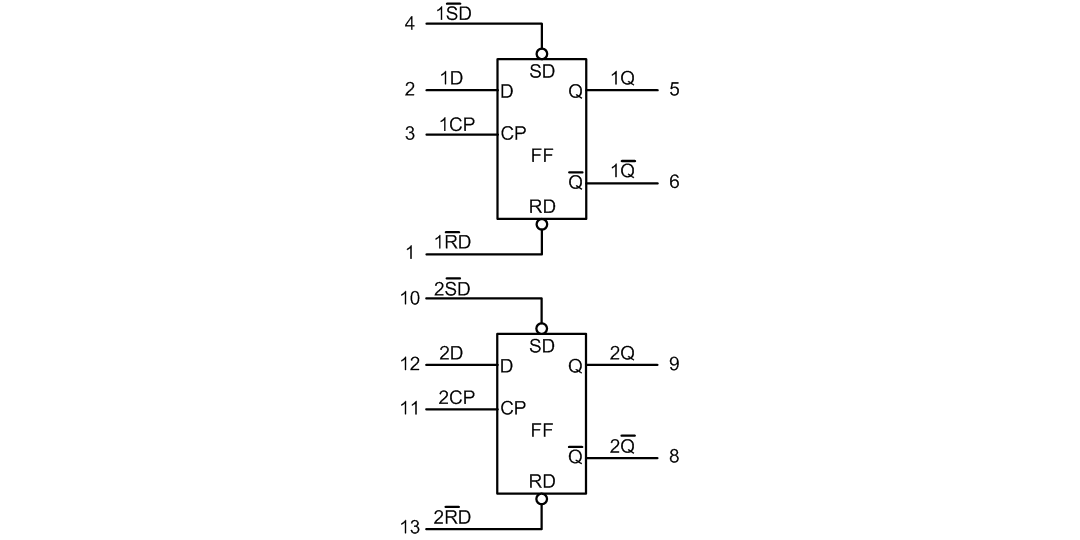 Documents
| title | Types of | Size (KB) | date | Download the latest English version |
| --- | --- | --- | --- | --- |
| SLP74LVC74A | PDF | 167 | 2022-03-18 | SLP74LVC74A Datasheet |