Recently, Silan launched multiple series of LED lighting drive solutions compatible with DOB and non-DOB solutions, e.g. ASOP7+Bridge Rectifiers + Diodes/SOP7+ Diodes/SOP4+ Diodes with high-degree integration, highly simplified chip periphery, reduced components, significantly reducing the cost of BOM. Therefore, the overall solutionsare very competitive in the market and can be widely used in various LED lighting markets such as bulbs and T-tubes.
The series solutions of ASOP7+Bridge Rectifiers + Diodes include multiple products such as non-isolated single chip series with a low PF (SDH775XR), non-isolated OVP series with a low PF (SDH771XR), non-isolated series with a high PF (SDH790XR/SDH792XR) and isolated series with a low PF (SDH761XR).
Non-isolated products with a low PF
Non-isolated products with a low PF is a series of high-accuracy LED control chips drove by constant current, with creatively integrating rectifier bridges, high voltage power MOSs of 500 V, freewheel diodes of 600 V, which significantly simplifies the needs of peripheral devices of the system; meanwhile, with the built-in high voltage power supply, the chip's autonomous power supply can be realized without the need of starting resistors and auxiliary windings, which eliminates the need for traditional external VCC power capacitance and further saves the system cost while speeding up the system startup.
It's worth noting that the above series of products operate in the critical conduction mode of the inductive current, which can obtain a high-accuracy constant current and an excellent linear/load regulation with the unique sampling technique of high-accuracy current. A variety of protection functions are integrated in the circuit including output short circuit protection, overcurrent protection from one cycle to another, overheating regulation, over-temperature protection, open circuit protection for sampling resistors etc., which enhances the safety and reliability of the system. The open circuit protection voltage of SDH771XR products can be connected to different resistance configurations through the ROVP pins to realize peripherally adjustable OVP voltage. The products of SDH775XRand SDH771XR series with ASOP7 package are compatible witheach other and their specifications are as followings:
Description

MOS Voltage Tolerance

On Resistance

Over-Voltage Protection

Recommended Power

(170-265V)

SDH7752R

500V

18Ω

/

100V/100mA

SDH7753R

500V

12Ω

/

120V/120mA

SDH7711AR

500V

13Ω

Yes

120V/120mA

SDH7711R

500V

7.5Ω

Yes

120V/150mA

SDH7712R

500V

5Ω

Yes

120V/180mA
Products package and their demonstrations are shown as below: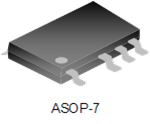 SDH771XR Products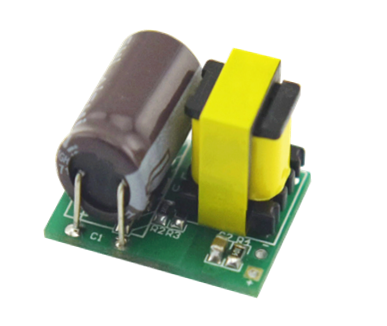 SDH775XR
Non-isolated products with a high PF
The non-isolated products with a high PF mainly include SDH7901RH, SDH790XRL and SDH792XR series, and the three series of products are all equipped with built-in rectifier bridges and Freewheel diodes of 600 V, among which the SDH7901RH series is equipped with a built-in high-voltage power MOS of 650 V while the SDH790XRL/SDH792XR is equipped with a built-in high-voltage power MOS of 500 V. The products of SDH790XR series have a PF of more than 0.9 and a total THD of less than 20%, and have no peripheral compensation capacitance. The products of DH792X series have a PF of more than 0.7, which can reduce the cost of peripheral devices. The overall solution greatly simplifies the requirements of the system peripheral devices. The open circuit protection voltage of the series products can be connected to different resistance configurations through the ROVP pins to realize peripherally adjustable OVP voltage. SDH790XRL and SDH792XR series have an anti-lightning capability of more than 1KV while SDH7901RH with an anti-lightning capability of more than 4KV series can meet the requirements from India market and can pass the test with a input voltage of 440VAC. The relevant products information is shown as below:
| | | | | |
| --- | --- | --- | --- | --- |
| Description | MOS Voltage Tolerance | On Resistance | Over-Voltage Protection | Recommended Power |
| SDH7901RH | 650V | 13Ω | >0.9 | 81V/100mA |
| SDH7901RL | 500V | 7.8Ω | >0.9 | 81V/100mA |
| SDH7902RL | 500V | 6.0Ω | >0.9 | 81V/130mA |
| SDH7921R | 500V | 7.8Ω | >0.7 | 81V/100mA |
| SDH7922R | 500V | 6.0Ω | >0.7 | 81V/130mA |
With a highly integrated system solution and highly simplified chip periphery, the solution has a low BOM cost and is highly competitive in the market the schematic diagram of which is shown as below: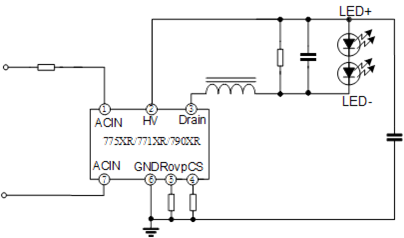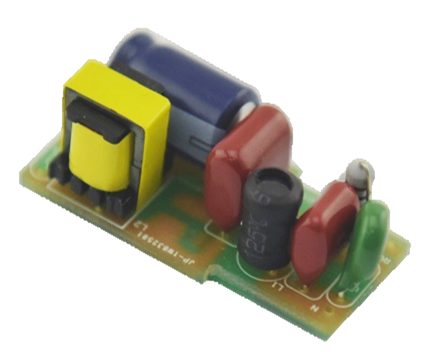 SDH790XRL
Isolated products with a low PF
The isolated products with a low PF mainly include SDH761X series with built-in rectifier bridges, high-voltage power MOS of 650 V, high-voltage power MOS of 650 V and SDH761XSH control chip, and without VCC capacitance and starting resistors. This series of products have a strong anti-interference capacity and load capacity and no risks of high temperature, high humidity and flashing light, so the solution has a strong anti-lightning surge capability. The relevant products information is shown below:
| | | | |
| --- | --- | --- | --- |
| Description | MOS Voltage Tolerance | On Resistance | Recommended Power |
| SDH7611AR | 650V | 24Ω | 5*1W |
| SDH7611R | 650V | 13Ω | 7*1W |
| SDH7612AR | 650V | 10Ω | 9*1W |
| SDH7612R | 600V | 3.8Ω | 12*1W |
The schematic diagram of the solution is shown as below: